In the world of club face design, there is what are called "uniform thickness faces" and there are "variable thickness faces." A face designed to be uniform in thickness is just that – the face is manufactured so the entire face has the same dimensional thickness.
To contrast, a variable thickness face is manufactured so a specific area of the center of the face is slightly thicker than the surrounding area around the center of the face. Below is an illustration of a typical variable thickness face design from one of my driver head designs.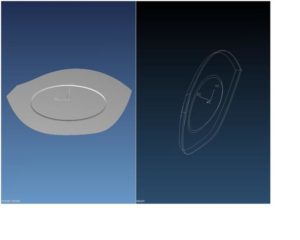 In this case, you can see that the oval shaped center area is made to be a little thicker than the perimeter surrounding area. The purpose of a variable thickness face is to achieve more face flexing when the ball is hit off center while still having the proper amount of face flexing in the center of the face to keep the face within the USGA's maximum limit for COR (coefficient of restitution) in the Rules of Golf.
The concept is to make the surrounding area thin enough so that when the ball is hit off center, the thinner perimeter area will offer less resistance to the face flexing, which in turn will increase the ball speed for the off center hit. The thicker center area is necessary to prevent a center impact from flexing too much to either exceed the USGA's limit for the COR of the face or cause potential permanent deformation of the face.
How large the thicker to thinner areas, the shape of the thick to thin areas, and exactly how thick and thin they need to be are all areas that have to be researched for each different size or different shaped face area. TWGT is the first to have commercially developed a variable thickness face in the golf industry for a titanium driver in 1995. All TWGT driver models developed since the company was founded in 2003 have had a variable thickness face to improve off center hit distance, performance and feel.
The variable thickness face concept also can be engineered to improve off center face impacts in a set of irons.  First pioneered for an iron design by TWGT in 2004 with our 770CFE irons and continued with our current 870Ti irons, the variable thickness iron face concept takes more work to determine the precise specifications because iron faces change in size through the set.  In addition, iron faces are not symmetrically shaped as are wood and driver faces so this too requires a difference in the design of the thick to thin areas of the faces.  Below is an illustration to show how each of the faces in the original 770CFE set of irons required the position of the thick to thin areas to change from the #3 iron to the pitching wedge in the design.