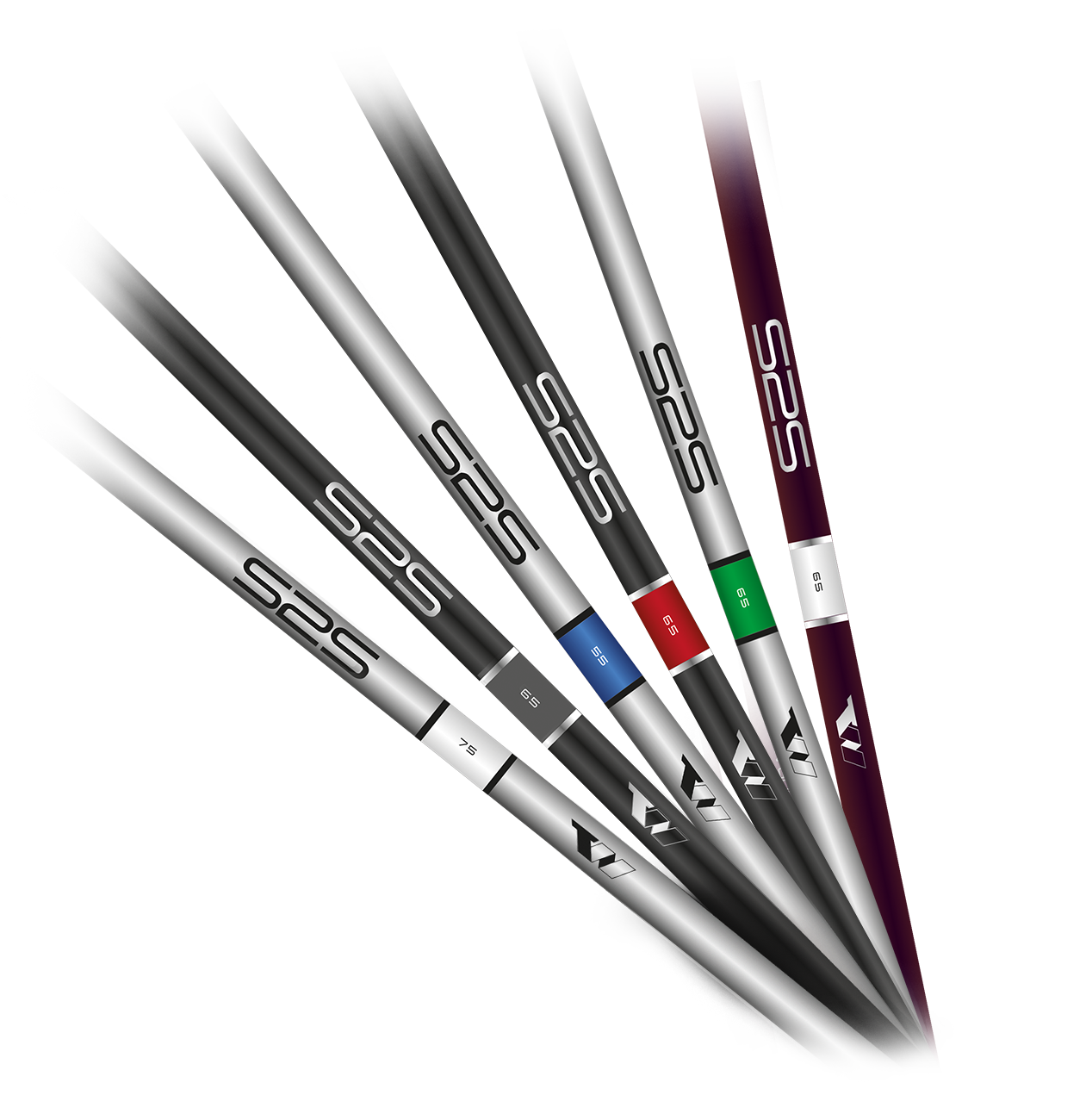 Wishon's S2S Shafts are graphite shafts custom designed to specific golfer swing characteristics. Using Wishon's S2S Shaft Fitting System, golfers can be matched to the best possible shaft for their swing characteristics.
A Wishon Golf clubhead custom fit and custom built with a Wishon Golf shaft offers golfers the absolute best fit and allows golfers to achieve success in their search for their perfect golf clubs. 
Wishon Golf custom designed shafts deserve every bit as much respect as Wishon designed clubhead models.  Different swing movements most definitely require different shaft designs to optimize each golfer's ability to maximize their ball striking potential.  Wishon Golf shafts are only designed for specific golfer swing types and represent the culmination of over 30 years of in-depth shaft research and incorporate a number of golf industry shaft design and shaft R & D firsts.  In truth, no shaft company has contributed as much to the technical understanding of shaft performance and to the advancement of accurate shaft fitting technology than Wishon Golf. 
The industry wide contributions of Wishon Golf to understanding and advancing shaft performance technology include:
In 1991 Wishon was the first to publish a book – a book, not just an article – solely devoted to shaft technology titled, The Modern Guide to Shaft Fitting.

 

This was the first time anyone in the golf industry published empirical measurements of the flex and other specifications of thousands of shafts.

 

For the first time ever, this book made it possible to definitively compare shaft stiffness to know how stiff one shaft is to others.

 

For many years after the book was published, to keep the industry up to date, Wishon provided an annual publication of each year's new assortment of shafts introduced by all the shaft companies.


Wishon Golf was the first to publish measurements of the full-length stiffness progression of shafts with its ground-breaking Shaft Bend Profile Software in 2006.

 

The data in Wishon's 1991 book only offered one measurement of stiffness for comparison purposes.

 

Wishon's Shaft Bend Profile Software visually showed golfers how thousands of shafts compared in their stiffness over their entire length from butt to tip.

 

With this never before seen information it was possible to predict the performance of a shaft for any golfer before the golfer bought or tried the shaft in a club.


Wishon Golf was the first to clearly explain exactly how shafts bent, twisted, curved and performed during the swing in its technical writings during the 2000s.

 

Prior to this no one had ever explained exactly how different swing movements caused the shaft to bend in different ways and in different places on the shaft.


Wishon Golf was the first to identify the exact swing characteristics that have a significant effect on the bending and performance of the shaft.

 

With its focus on evaluating the golfer's Transition Force, Downswing Tempo and Point of Release, Wishon Golf pushed the industry years ahead in the ability to evaluate a golfer's swing for the purpose of accurate shaft fitting.


And now, with its emphasis on studying the full length stiffness progression of thousands of shafts, Wishon Golf is pushing the envelope with shaft designs that uncover performance and feel elements in golf shafts that have never been attempted, let alone even envisioned.

 
Use our online S2S Shaft Fitting System or chart below to determine the best shaft for play…