Tom Wishon Golf Technology takes extreme pride in our commitment to design and research to offer clubmakers and golfers the most innovative golf club design technology as well as to offer the very best technical information in the entire golf industry about golf club performance and fitting.
Company founder Tom Wishon has been recognized as one of the leaders in golf club design and technical research in the entire golf industry since the 1980s.  Tom's passion for learning everything possible about the performance and fitting of golf clubs began in the 1970s when upon asking industry experts for answers to his technical questions he would either be ignored or given little more than marketing comments.
As Tom recalls when asked about this, "I remember being so frustrated in the early part of my career that no one in the golf industry would answer my questions or share what they knew about the performance of golf clubs.  I made a decision way back then if I were able to work to find the technical answers to the questions I had about golf clubs, I would make it a point to always share my work, my research and my knowledge with whoever was interested."
And share he has.  As of 2011, since beginning his career in clubhead design in 1986, Wishon has designed more than 300 different models of clubheads – more than any other single person in the 500 year history of the game.  Wishon has created original clubhead designs for PGA Tour players Payne Stewart, Scott Verplank, Ben Crenshaw, Bruce Lietzke and his designs have been used to win on the PGA Tour, Champions Tour and in Ryder Cup competition. Through 2011, more than ten million Wishon designed clubheads have been custom built for golfers over the course of his career.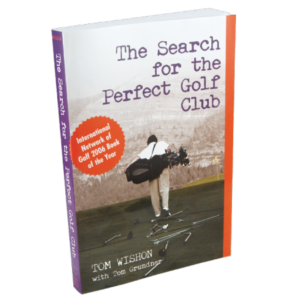 Tom has also written 9 books as well as hundreds of magazine and newsletter articles about golf club performance and clubfitting technology.  Two of his books have won the prestigious "Golf Book of the Year Award" from the International Network of Golf, recognized as the game's largest organization of golf media professionals.  Tom's books offer the facts about golf club performance and stand as a beacon of truth in a game fraught with marketing claims and misinformation.
Since 1986, Tom has designed more original clubhead models than any other person in the 500 year history of the game.  Included in his design experience are more than 50 different technical firsts, including the first adjustable hosel woods (1995), the first draw bias/heel weighted metal woods (1995), the first graphite/metal wood head construction (1996),
the first milled face irons and wedges (1989), the first high COR irons and fairway woods (2000, 2004) and many others.
Wishon Golf welcomes your questions about any aspect of golf equipment or clubfitting technology because it will always remain a focus of our company to provide clubmakers and golfers with the most truthful, most up to date information about golf clubs.